Zion Mennonite Church
Vacation Bible School 2022
Sunday July 24 - Thursday July 28
6pm - 8pm
Zion Mennonite Church's
Vacation Bible School 2019
Vacation Bible School 2019 "God's Nomads:  Stars and Promises" Thank you to the many, many volunteers who helped with this year's VBS! Here are just a few examples of the fruits of our labor:
• Number of Volunteers: 55+
• Average Attendance 44
• Total Number Enrolled: 53
• Bibles Awarded: 2
• Campships Awarded: 51
• Offering for Drift Creek Camp: $570.60
"God's Nomads:  Stars and Promises" is the theme of this year's Vacation Bible School.  "Stars and Promises" tells the story of Abraham and Sarah—a story of waiting and trusting in God.  It's also the story of a God who surprises with promises as vast as the star-filled sky.  Children will learn about Abraham and Sarah's travels and about God's promise to them of many descendants.  They will celebrate when God's promise finally becomes reality in the birth of Isaac.  They will learn that God cares about all of us, and that nothing is too hard for the Lord.
Children who have completed kindergarten through 8th grade are invited to attend.  As in past years, children will be given an opportunity to earn campships to Drift Creek Camp or a small gift from our gift box.  Points are earned by attendance, bible memory work, bringing a Bible each night, and bringing a friend.
If you have any questions about VBS, please call the church office at 503-651-2274. Office hours are Monday, Tuesday, Thursday, and Friday, 9 a.m. to noon. We hope you will join us on July 28th!
2019 VBS Directors,
Jennifer Gingerich, Mary Masingila, Stephanie Moyer, Jodi Hansen
_______________________________________________________________________________________
Zion Mennonite Church's
Vacation Bible School 2018
Vacation Bible School 2018 is "Paul: Shipwreck and Dreams." Thank you to the many, many volunteers who helped with this year's VBS! Here are just a few examples of the fruits of our labor:
Number of Volunteers: 53
Average Attendance 63
Total Number Enrolled: 72, including 18 from Zion
Bibles Awarded: 2
Campships Awarded: 73
Offering for Burkina Faso ministry: $1114.16
2018 Vacation Bible School Video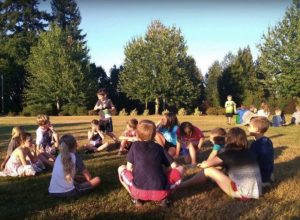 2011 Vacation Bible School Video
2012 Vacation Bible School Video